Tokyo tour in a Kimono!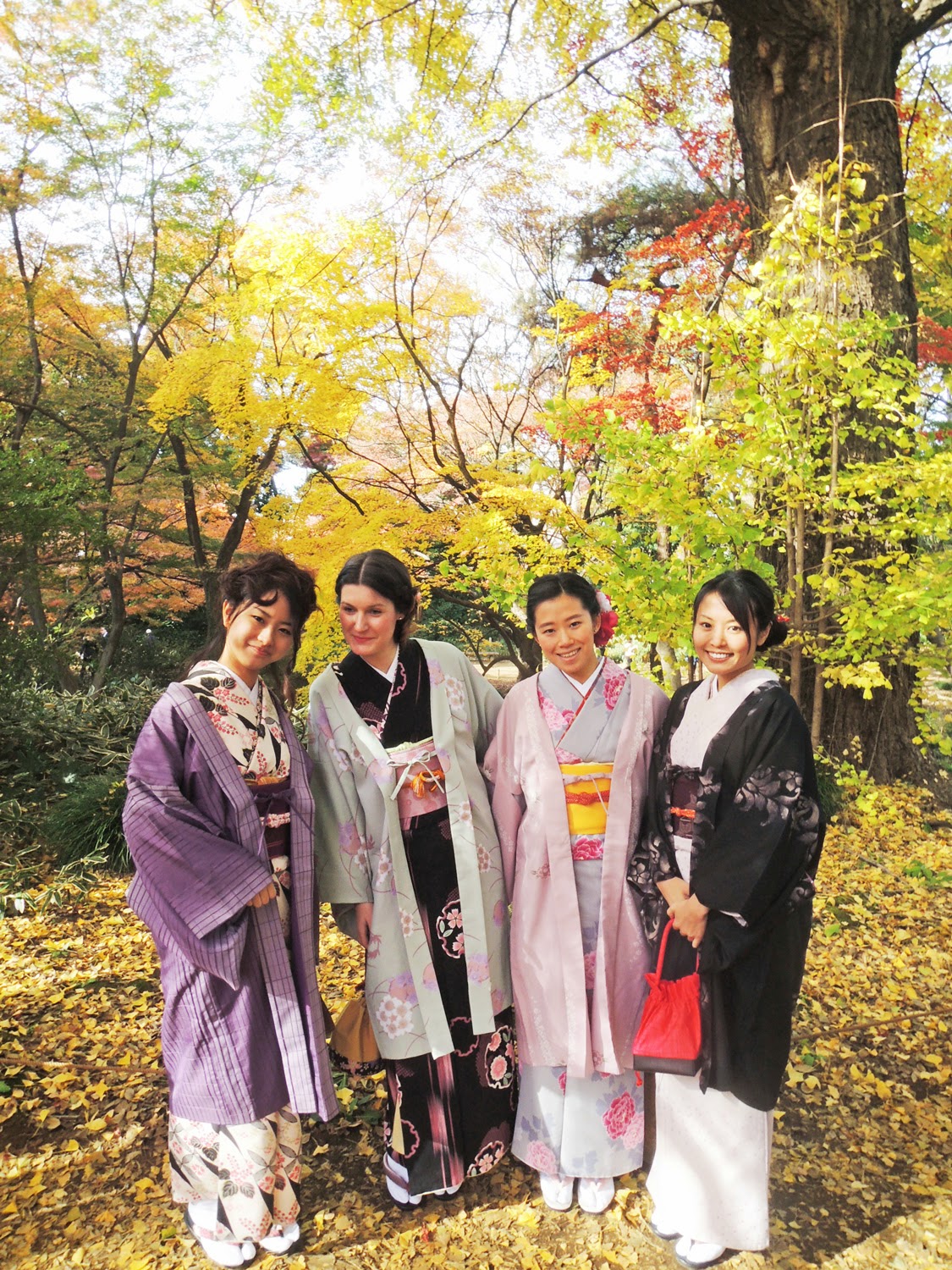 Kimono rental/dressing and limousine/taxi sightseeing in one plan
What is a better way to look around the history of Tokyo other than wearing the traditional costume of Japan, the kimono and cruising the city in a limousine/taxi?
The sightseeing tour is about 5 hours and you can request all the places you want to go!
Either it's from the symbol of Japan "the Imperial Palace", the newest sightseeing attraction "Tokyo Skytree" to spiritual shrines or any other particular places you have in mind, no need to worry!
If you leave us with the courses, then the experienced, well-acknowledged drivers will take you to the best places around the city.
The meet place can be at the kimono rental store "Edokomachi" or you can choose another.
In the case of taxi sightseeing
Asakusa"Edokomachi
Rikugien
YanakaGinza
Asakusa
Estimated total time:5 hours (including kimono dressing time)
タグ: English
If in a minivan :minivan sightseeing 51,970yen + kimono rental plan A (for women) one person 4,320yen
If in a taxi:Taxi sightseeing 25,100yen + kimono rental plan A (for women) one person 4,320yen
「EDOKOMACHI(Kimono rental store)」 http://edokomachi.co.jp/index.html
10:00am Edokomachi
more than 100 kimonos to choose from! Experience Tokyo in a different way
"Edokomachi" is a kimono store which holds popular high quality clothings.
There are various designs like classy, low-toned colors to bright, fun-colors. You can choose different options and even wear the newest designs.
※please make reservation youw own, Thank you.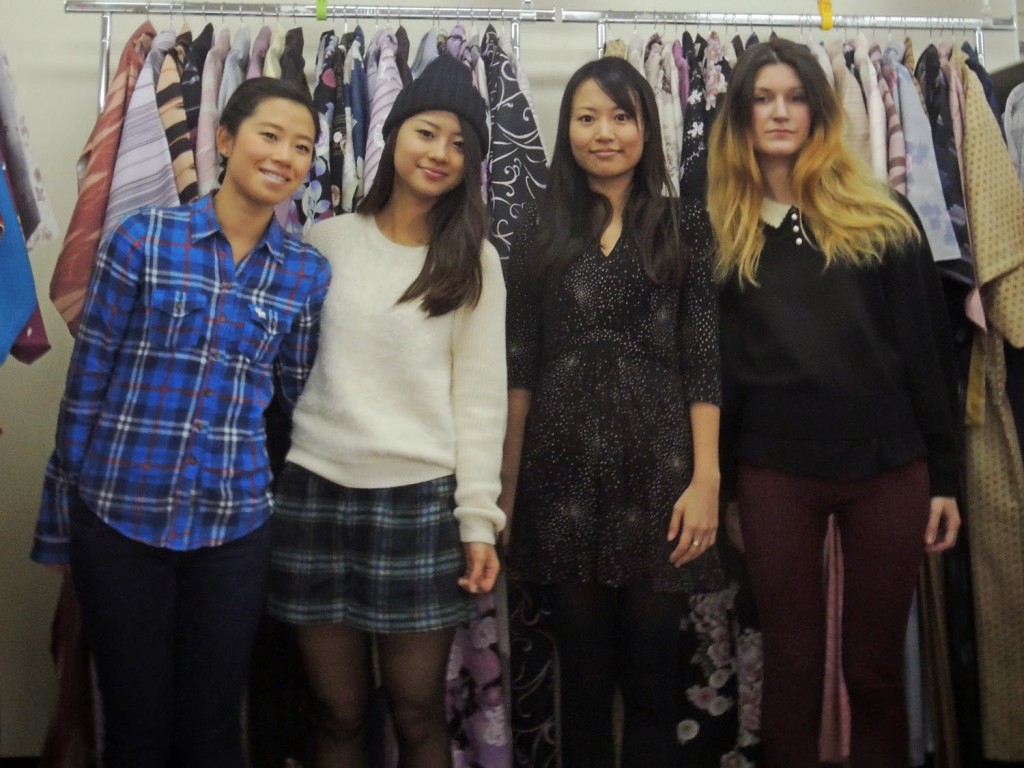 Even though we weren't used to the kimono, the dressers at "Edokomachi" surely knows how to dress us up!

11:30am Rikugien
20 minutes away from Asakusa and you are already surrounded by beautiful nature in Rikugien. The kimonos match well with the historical Japanese garden.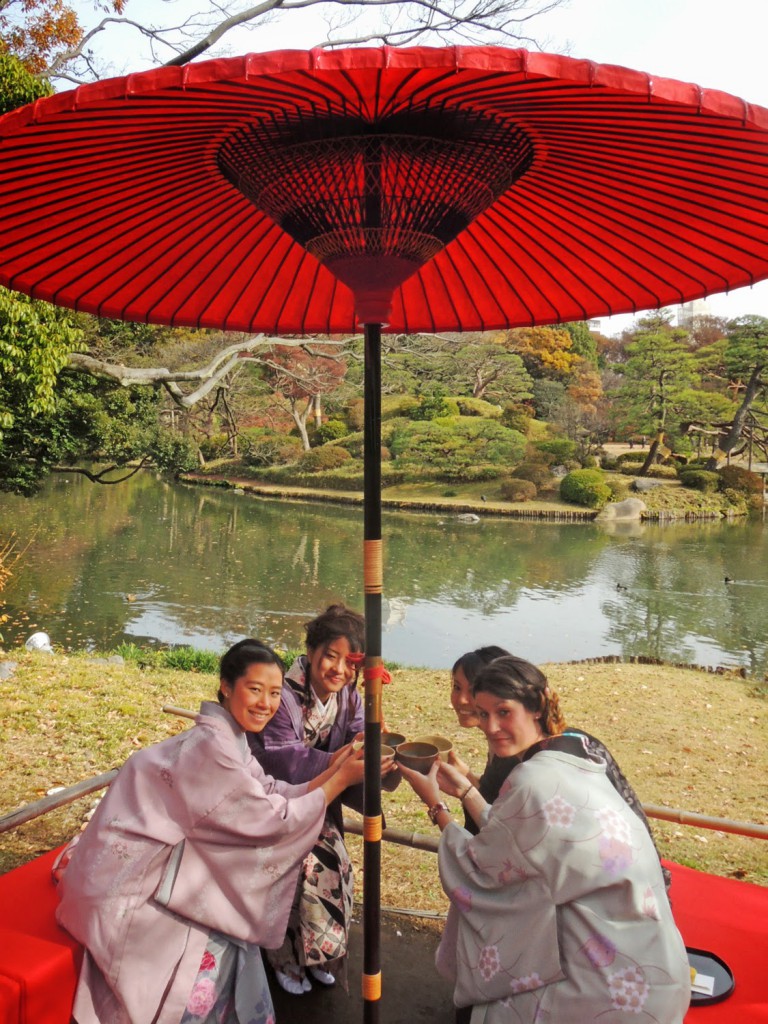 Drinking REAL green tea and enjoying Japanese dessert at a small teahouse. Relaxing old-fashioned Japanese style like we went back into the past.

13:00pm Yanaka Ginza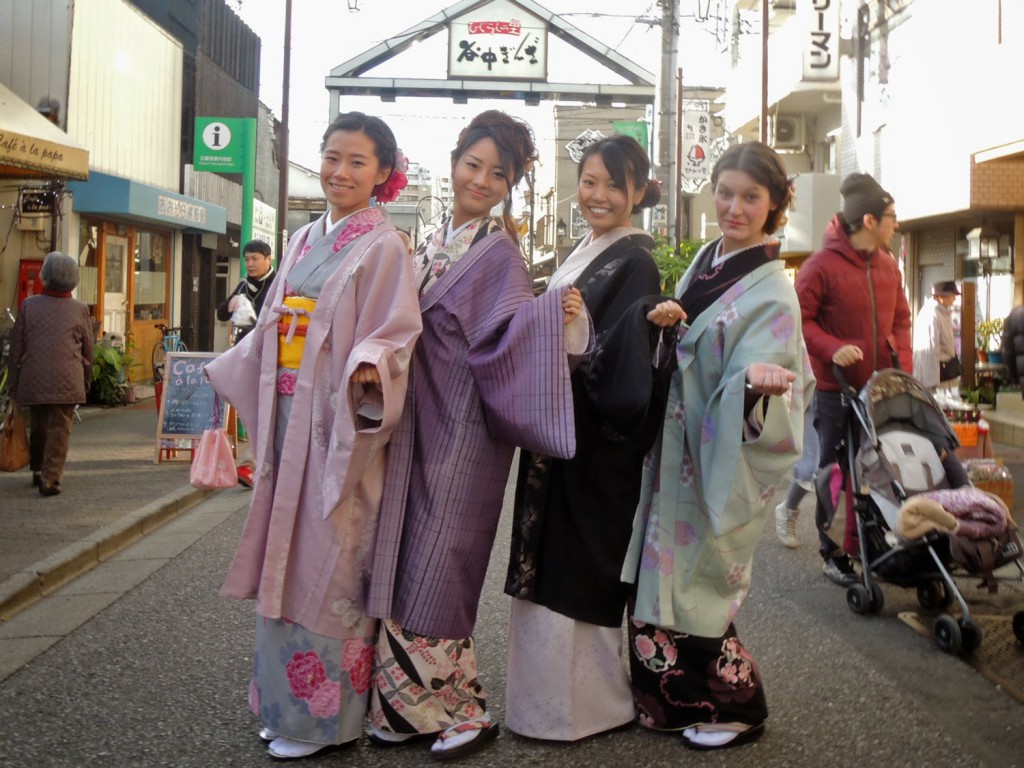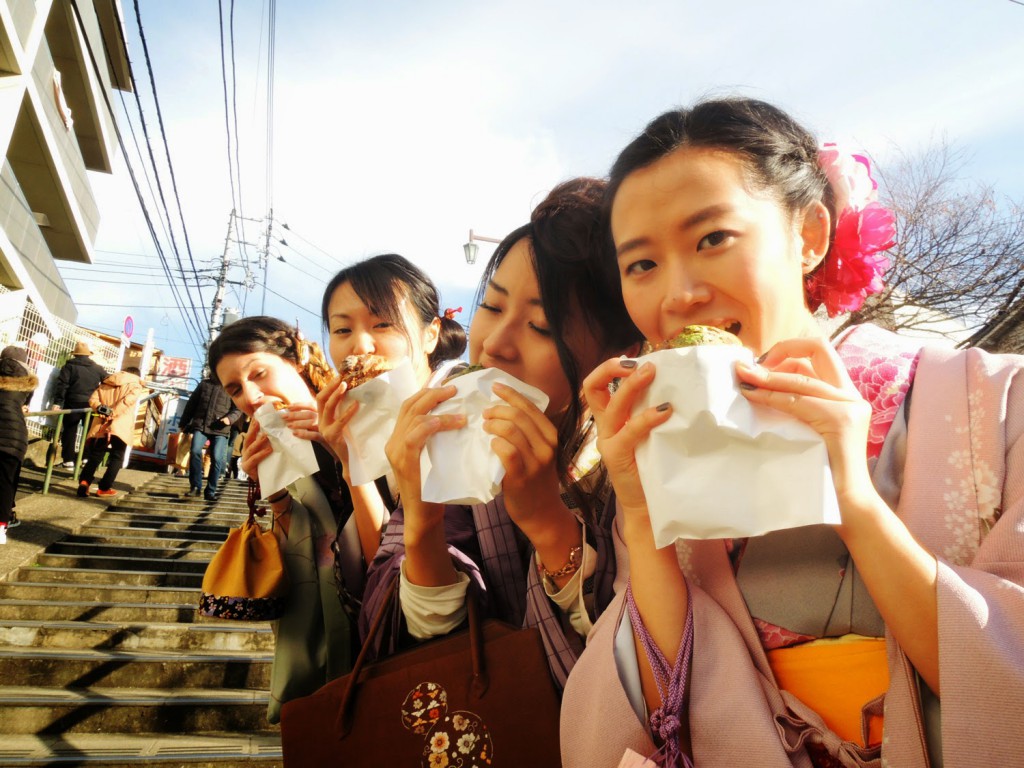 13:45pm Taking a break at a popular retro cafe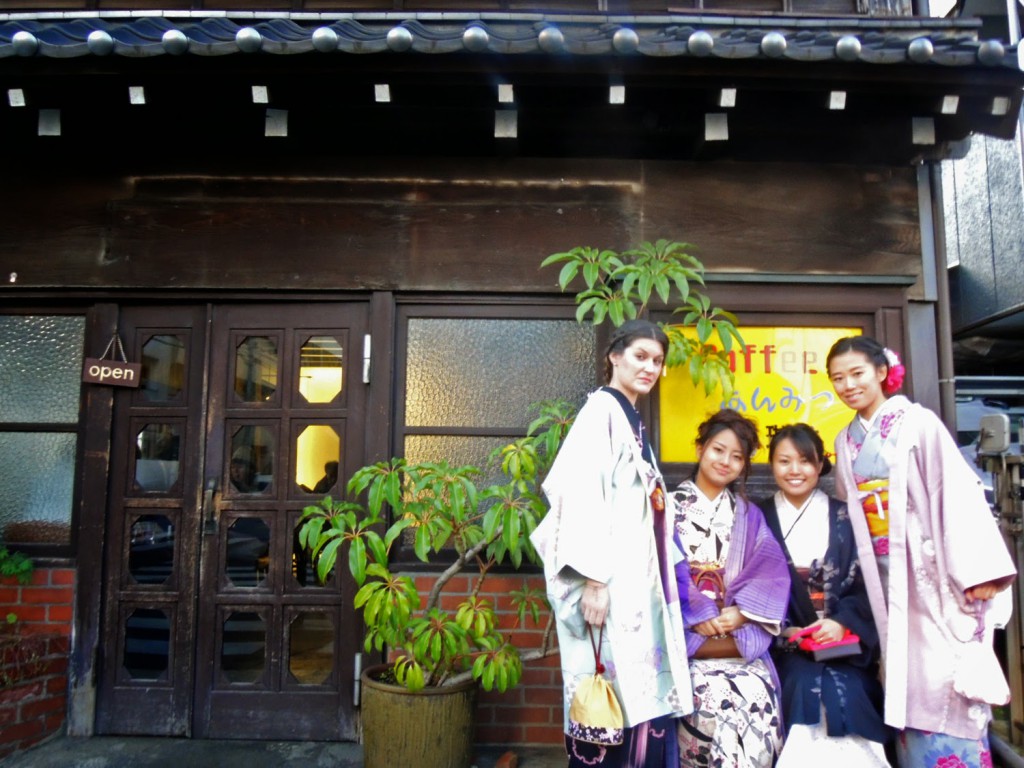 Link|上野・浅草ガイドネット カヤバ珈琲(Japanese)
14:45pm Asakusa
Back to Asakusa. Taking a picture at Azumabashi bridge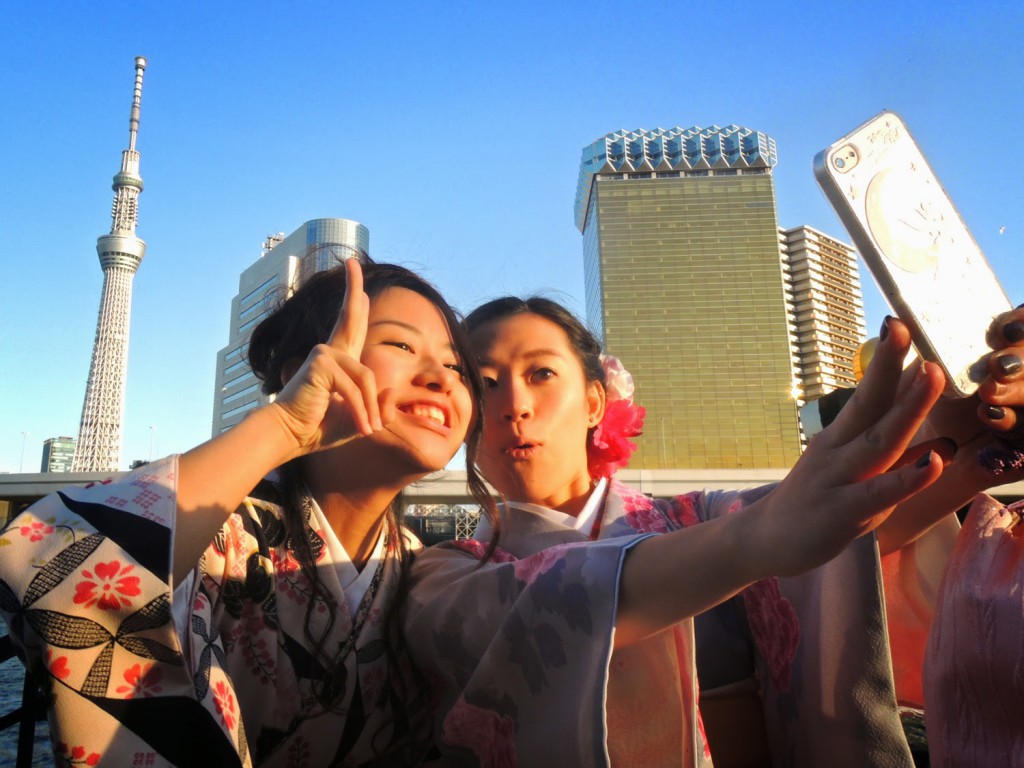 One of the best places to take a picture with Tokyo Skytree.Pick up can be at the airport or at the hotels you are staying.
Wait no longer to experience the time of your life!!
Comments: Looking back at the tour…
Girl with big pink flower in hair
For me, I had the best time with these girls and it was so fun!!
There isn't much time where we get to dress up nicely in a kimono
and walk round historical sightseeing spots. Wherever we went, people were kind to
tell us that we looked pretty,(maybe referring to the kimono?) but either way it felt great!
A fun way to spend time with your friends or it could be a great gift for one to experience
when coming to Tokyo. Check it out for yourself!
Girl with purple coat
It was a very fun expericence for me. I usually don't like my picture being taken, but there aren't
many chances to wear a kimono so I was exhilirated by it!
Outside was kind of cold, but the limousine was so cozy, warm and comfortable,
we were able to relax. It felt like we could stay for hours and hours talking non-stop.
Since it was a chartered limousine, it was just us four so we were able to laugh out loud
and talk about all the things we wouldn't normally say in public! If there was another chance where
I can go on this tour, I would definately go. Last but not least, many thanks to the awesome driver!!!
Other recommended courses
Asakusa dress up → Rikugien → Yanaka Ginza → Asakusa Nakamise-dori promenade
Asakusa dress up → Hamarikyu Gardens → Kabukiza Theater → Asakusa Nakamise-dori promenade
Asakusa dress up → Kiyosumi Garden → Monzennakacho → Asakusa Nakamise-dori promenade
Asakusa dress up → Meiji Jingu Shrine → Omotesando → Asakusa Nakamise-dori promenade
Asakusa dress up → Imperial Palace → Tokyo Skytree → Asakusa Nakamise-dori promenade
Asakusa dress up → Tokyo Skytree → Imperial Palace → Asakusa Nakamise-dori promenade
Contact Us
新着記事
タクシーを利用した観光地巡り
利用料金が高いと思われがちなタクシー移動も観光タクシーなら定額料金で利用が可能です。
少人数でも大人数でも、観光アドバイザーも兼ねるドライバーがストレスのない観光地移動をご案内します。
料金について
利用方法について
観光タクシーのお問い合わせ